This section contains all the updates made to the Brava Home mobile application:
Download the App
For Apple Users: Download the "Brava Home" iOS app from the Apple App Store
For Android Users: Download the "Brava Home" app from the Google Play Store
February 2021
Recipe and Custom Cook Commenting for App and Web
Share your feedback on the Recipe or Custom Cook.

Tap the Comment icon on any recipe or Custom Cook.

Tap into the comment box and leave your feedback, tips or tricks.

Tap the image Icon to add any images you would like to share.

Hit the Post button to upload your comment!
Tap the heart icon on another Brava user's comments to know you loved their comment.

Tapping the comment icon below another person's comment will let you reply to them in a thread.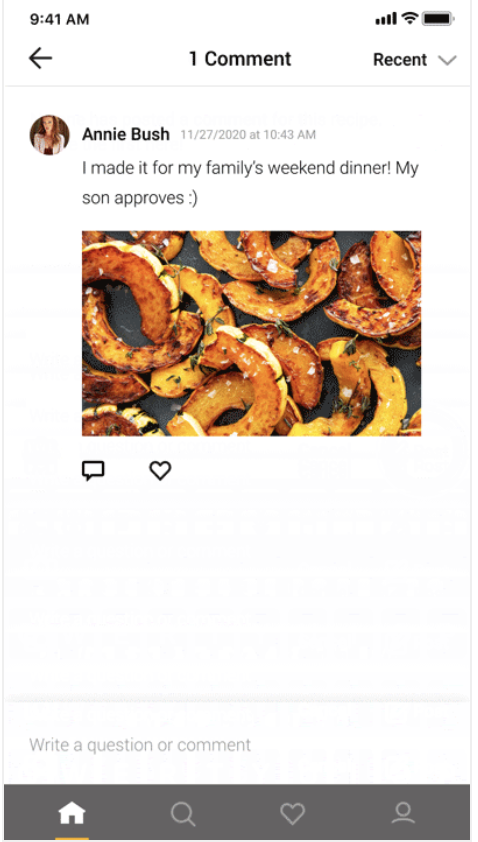 App Custom Cook Search
Search for Community Custom Cooks via the App.

Navigate to the Search page by tapping on the magnifying icon from the bottom navigation bar.

Tap "Custom Cooks" above the search bar.

Type in the Custom Cook you are searching for in the search field.
Search can be used in the Feature tab to search for Chef-selected Custom Cooks.

Searching in the All tab will search all available Custom Cooks that have been made by Brava users.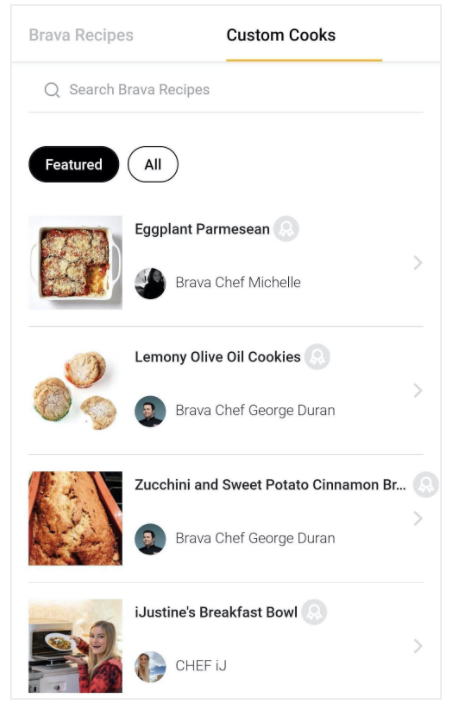 Web Custom Cook Search
You can also Search for Custom Cooks via the Custom Cook page on the Brava website.
Click Recipes, then Custom Cooks to start searching for your favorite Custom Cooks!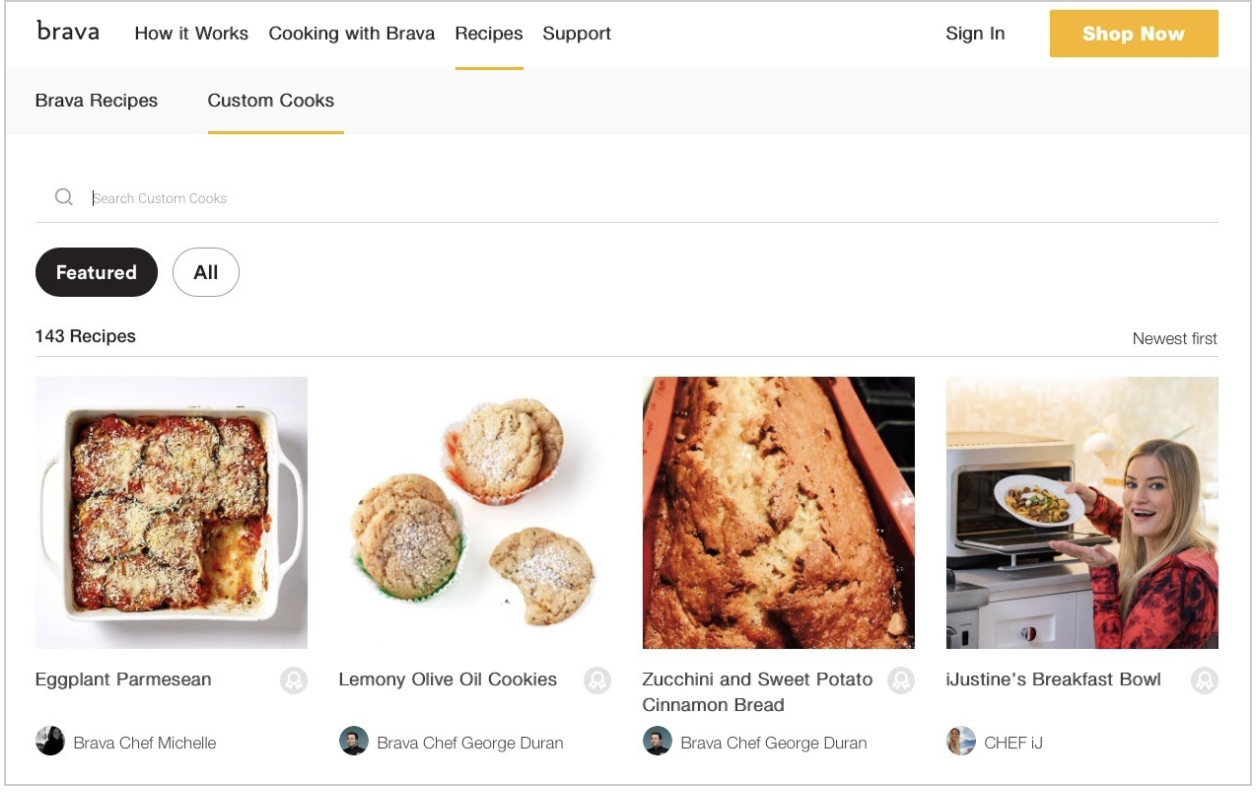 You can now add any Brava Preset Recipe to any Custom Cook recipe.

You can browse from any recipe available on the Brava and add it to a Custom Cook without having to run the cook first.

You can use this feature to string together multiple different recipes or run a step before or after any recipe preset on the Brava.
March 2020
New App Features:
Updated the Brava In Use screen to reflect the current Cooking screen on the Brava.

Added an additional Pause symbol to the Pause Button.

Added the Cook Progress Bar from the Brava.

Moved the Current Cook Time and the Total Cook Time to above the Cook Progress Bar.

Moved the Probe Temp to above the Cook Progress Bar.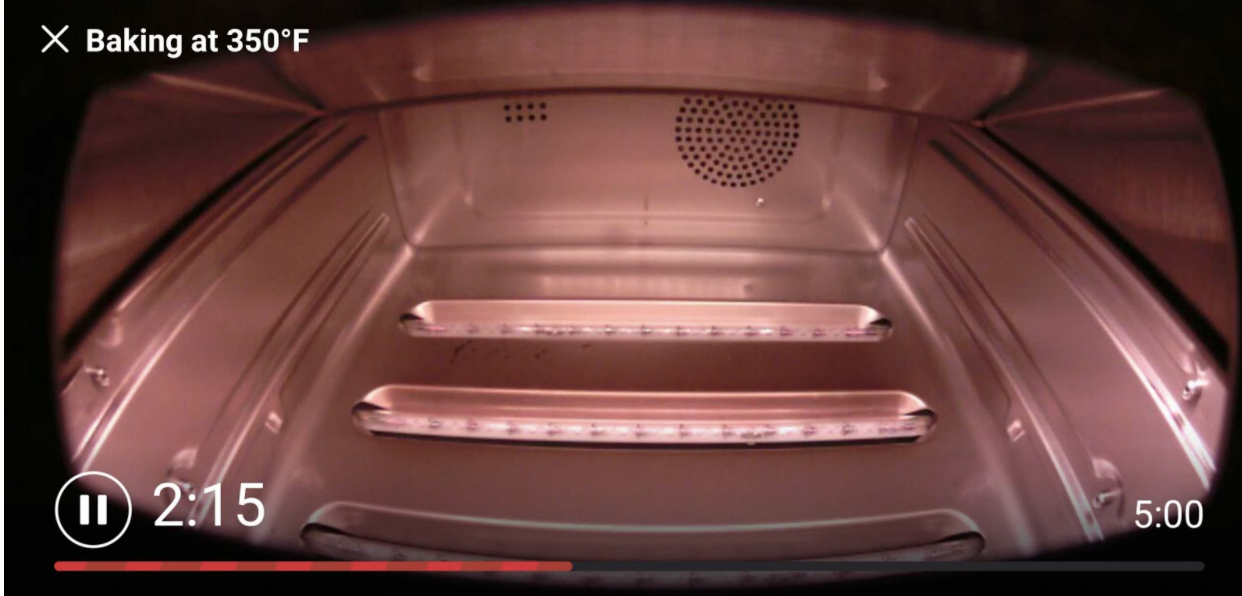 Added a Share button to Recipes.

You can now share any recipe on the Brava App by selecting the Share button.

Selecting the Share Button will send a link to the recipe that you can easily share on Facebook, Twitter, Instagram, etc.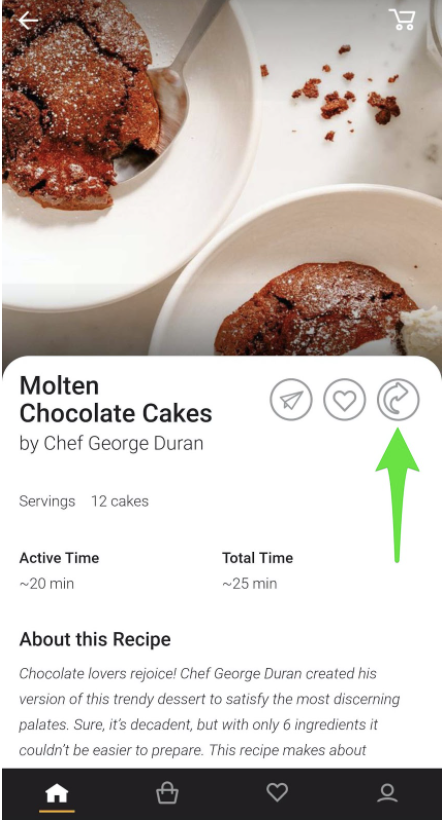 Changes:
Added various minor improvements and fixes to Brava in Use in the Brava app.
Bug Fixes:
Fixed an issue where Keep Warm would display with a 1-3m cook time when ran from Recents.

Fixed a typo in an error banner that would display when attempting to sign into an account without entering an email.

Fixed an issue where the Brava would frequently disconnect from the Brava App for certain users.