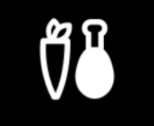 Under the Cook button, you will find thousands of Brava chef developed preset recipes. New recipes are added every week.
Below are detailed instructions to set up a NY Strip Steak and Sweet Potatoes recipe.
1. Locate the recipe on the Brava. There are two ways to find the recipe on Brava:
- Go to the Search button on the main screen, type in "NY Strip Steak and Sweet Potatoes" to search OR
- Click on the Cook button, then / Beef / NY Strip Steak / NY Strip Steak and Sweet Potatoes
2. Below screen shows up once you select "NY Strip Steak and Sweet Potatoes"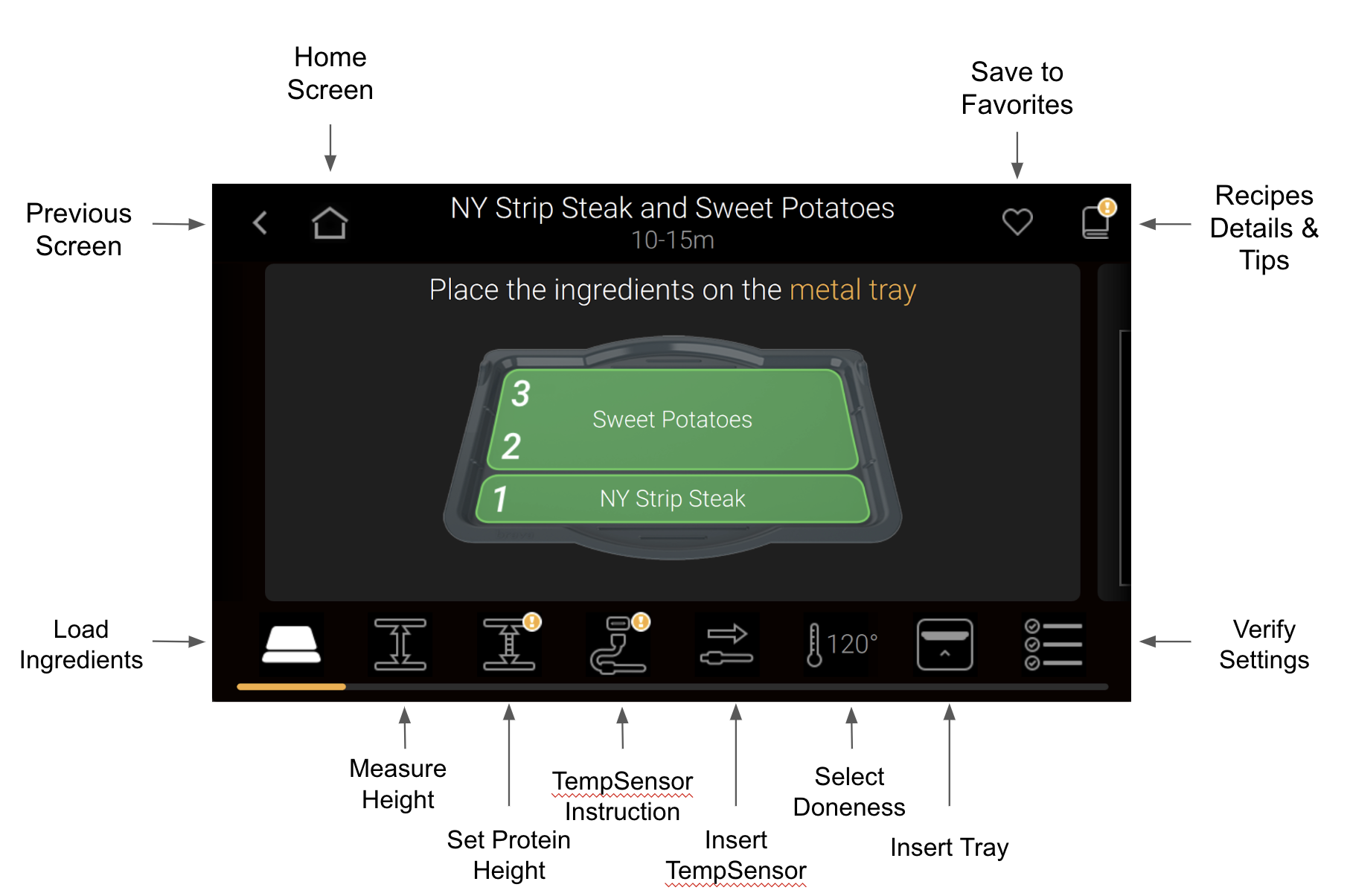 3. Click on icons at the bottom to step through setup screens to prepare the cook. As you become more familiar with the recipes, certain screens can be skipped.
Step 1: Load the Tray

Select Metal Tray

Place NY Strip Steak across Zone 1, thickest side on the left.

Place sweet potatoes evenly across zones 2 and 3.

Single layer with minimal gaps.

Click on the icon in the top right corner to see the complete recipe.

Step 2: Measure Height of Sweet Potatoes

Measure your sweet potatoes with the TempSensor to ensure they are 0.5 inch or less tall.

If the sweet potatoes are bigger, they may not cook fully.

Step 3: Measure Steak Height

Measure the thickness of your steak using the TempSensor.

Slide the white marker up or down on the screen to the correct height of your steak.

Step 4: Check Steak Height

Your steak should be between the heights of 1.25" and 2".

The TempSensor icon will light up green when you have entered a steak between these heights.

Cook will not start if height indicator is red.

Step 5: Insert TempSensor

Play video for illustration.

From left side of the steak, insert your TempSensor horizontally into the steak.

Insert all the way in until the needle is completed inside the protein.

Step 6: Select Doneness Level

Select your preferred doneness for the steak.

You have the option to add cook time by doing Touch Up or Sear at the end of the cook to perfect your steak.

Touch Up will continue to cook the food; while Sear will also brown the food (top or bottom, or both).

Step 7: Insert Tray

Slide the Metal Tray onto the top shelf of your Brava.

Ensure your TempSensor cord is tucked under the protective shelf on the left side. Twist the TempSensor needle to help position the cord.

Insert TempSensor connector into the socket inside the Brava on the left side.

Step 8: Confirm Settings

Confirm settings you have selected.
When all necessary steps have been completed (all steps listed on screen have check marks), the round button on the Brava will change from white to green.

You are ready to cook - press the green button! Button turns to amber color when the Brava is cooking.